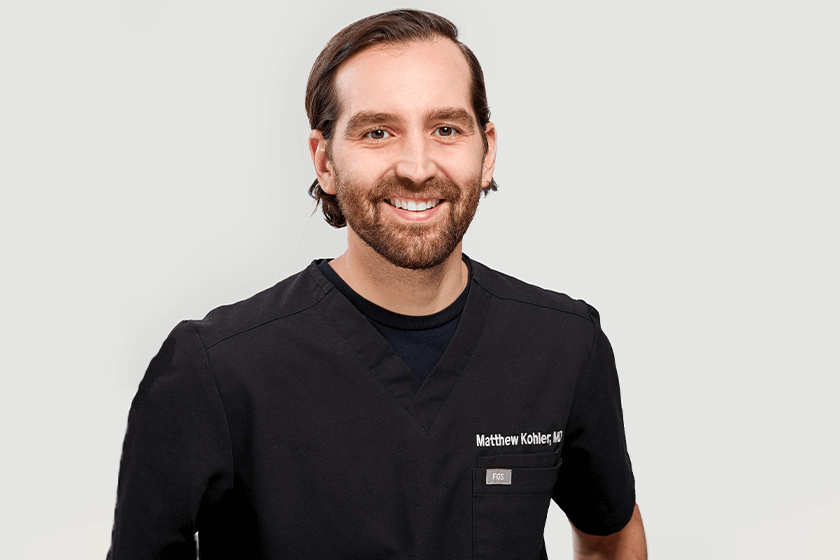 Dr. Matthew Kohler has been a leader in the field of Regenerative Medicine and Interventional Pain Medicine in Manhattan since his post-doctoral training in 2015. He completed both his residency in Anesthesiology and fellowship in Pain Medicine at the prestigious Columbia University Medical Center, part of New York City's #1 ranked New York Presbyterian Hospital system. He is double-board certified in Anesthesiology and Pain Medicine through the American Board of Anesthesiology. Through his training he has garnered world-class experience in interventional spine and joint procedures for the management of painful degenerative conditions and injuries.
Dr. Kohler is fully committed to the wellbeing of his patients and his ultimate goal is to help them regain confidence in their body's natural ability to heal itself. He has extensive training through the Interventional Orthobiologics Foundation in the science and application of Regenerative Medicine for orthopedic conditions. He is also a participant of the first class of the Wild Health Fellowship, a program dedicated to the specialization in genomics-based personalized medicine. His education and experience has given him a deep understanding of how to obtain optimized recovery and regeneration through natural means such as nutrition, exercise, sleep, stress management, and when necessary, supplementation.
Dr. Kohler incorporates the Hippocratic philosophy that "natural forces within us are the true healers of disease" and believes that medical treatments should be utilized primarily as a tool to support the body's own natural healing mechanisms.
Dr. Kohler remains involved nationally with a number of organizations including the Interventional Orthobiologics Foundation (IOF), The Orthobiologic Institute (TOBI), Wild Health, Spine Interventional Society (SIS), American Society of Pain and Neuroscience (ASPN), and the North American Neuromodulation Society (NANS). Dr. Kohler has given presentations on the local and national level and has been featured on several podcasts to discuss pain and regenerative medicine. He has also been featured in a number of media outlets for his expertise in the field.
In his spare time Dr. Kohler enjoys experiencing everything the world has to offer with the important people in his life. He is especially interested in creative experiences related to music, art, and cuisine.
Reviews
"Dr. Kohler is a dedicated, compassionate and highly trained doctor. The entire experience at Ospina Medical was very pleasant from the moment I walked in the door. The receptionist was helpful and courteous. Dr. Kohler is extremely professional and you get the sense that he is listening to you without feeling rushed. His use of technology to facilitate things is definitely a big plus. I recommend his services highly."
F.P.
Google
"On first arrival Dr. Kohler and his staff at Ospina Medicine were warm and welcoming. He was precise in his knowledge and explained all parts of both my pain management due to previous injury, and preventative measures for future treatment.  Their New York City based state of the art technology and contemporary office made me feel at ease immediately.  As someone with continual back pain, and as someone who wants to avoid opioid treatment, the very nature of Ospina Medical using non-opioid approaches to pain management for me was a big bonus.  The results have been brilliant, and I am so pleased to have Dr. Kohler to help me through my pain management process."
M.M.
Google
"You can't get any better care then this. My doctor is so professional, caring and attentive to your needs. I would refer anyone to him. One of my best doctors I have. I trust him with my life. Every staff member are so nice and professional. I highly recommend Dr. Kohler to all the patents who have pain. He's a very warm caring doctor."
J.Y.
Google
"Dr. Kohler and his team are an excellent team of professionals that make you feel at easy and welcomed. I've been working with him for the past 4 years and I have referred my friends and coworkers to his team."
C.A.
Google
"I have suffered for nearly a decade with degenerative disc disease, a hip injury, and two bad knees and arthritis and ridiculously bad cartilage. I have seen so many doctors that I can't even remember a lot of them - and some I remember with vitriol. When Dr. Kohler opened his own practice, I followed him. He is genuinely compassionate, and really listens which is a skill many doctors haven't acquired. Over the years he has given me the opportunity to live my life without so much pain all time. I have reached a point where I have made a lot of changes in my life which has helped reduce my pain but I'm still going to see Dr. Kohler to make sure I can continue to enjoy life without incredible pain everyday . He's really one of the few doctors in my life that I feel *really improved my life.* Most doctors I would never return to. He and Ospina is a practice I will never turn away from. If you feel like you're in the bowels of hell because of your constant, chronic pain? Go see Dr. Kohler. He is not a magician, just an excellent doctor. His staff is equally fine and very helpful and kind."
P.F.
Google
Related Posts