Literature Review of PRP and Stem Cells for Chronic Discogenic Low Back Pain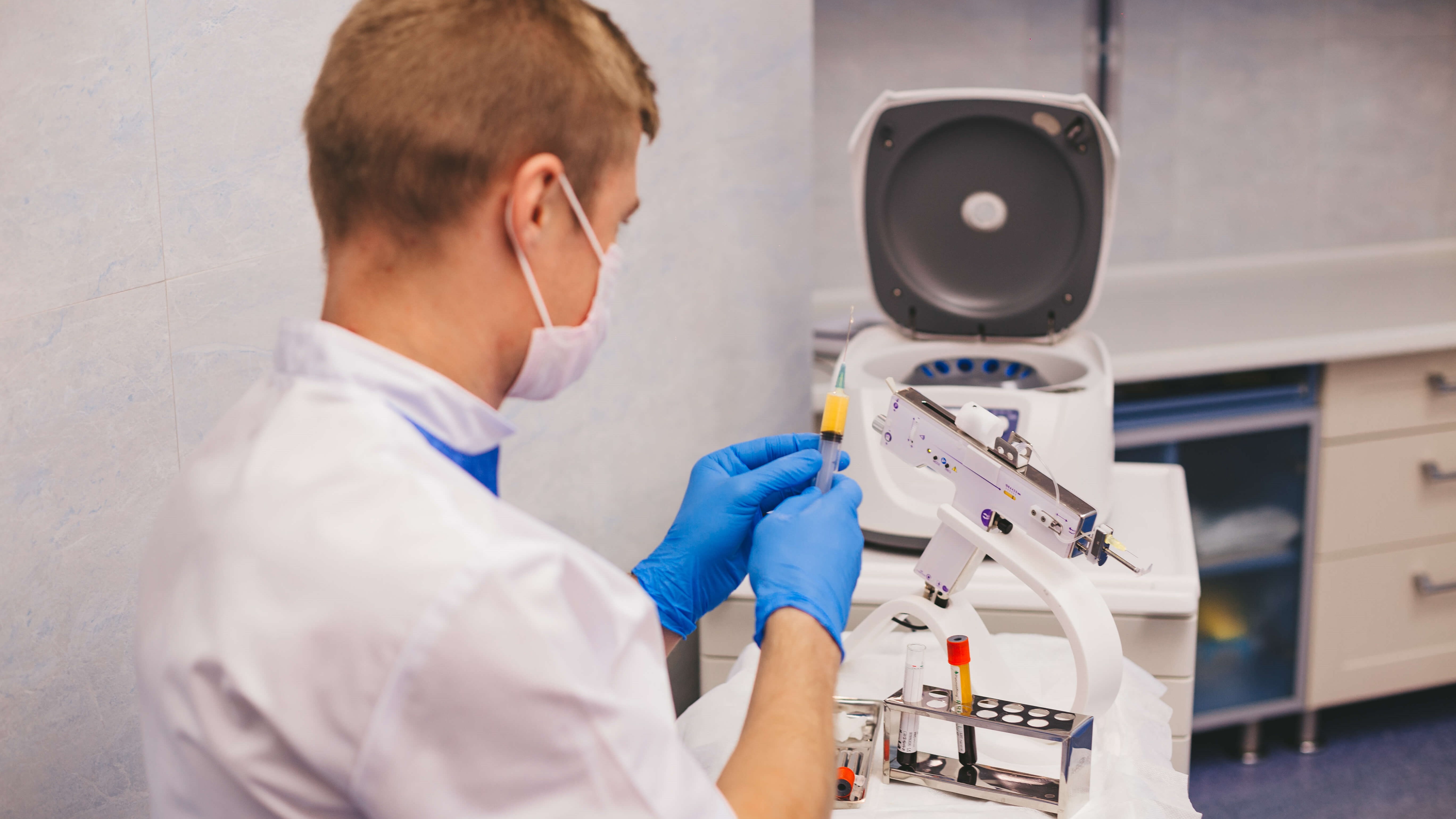 What are Stem Cell Therapy and PRP Therapy?
The field of regenerative medicine has rapidly developed over the past decades and is seeing increasingly significant evidence in support of its broad treatment of chronic pain. Stem cell therapy and platelet-rich plasma (PRP) therapy, in particular, are two leading treatments currently available to many individuals suffering from chronic musculoskeletal pain. What these two therapies have in common is how an individual's own biomaterial––obtained on the same day as their therapeutic procedure––is injected into target tissues to promote healing of damage within the body. Stem cell and PRP therapies target specific musculoskeletal tissues (ligaments, tendons, muscles, cartilage, etc.) and intend to resume the body's healing process by directly delivering agents necessary for tissue regeneration to the areas requiring it.   
Stem cell (SC) therapy involves the extraction of a patient's bone marrow, and the subsequent isolation of the stem cells within the collected sample. This bone marrow sample is most often taken from the iliac crest of the left and right pelvic bones. This is a minimally invasive procedure typically requiring light sedation. This collected sample is then separated into layers via centrifugation and other laboratory techniques that allow for the purification and isolation of the desired stem cells. Once obtained and readied, a trained specialist is then able to inject the stem cells into or around target tissues so long-term healing may resume over the subsequent months. Typically, it takes about 6 months to see notable progress in pain relief and function to an area; however, the regeneration may continue for up to multiple years.     
Platelet rich plasma (PRP) therapy is similar to stem cell therapy but involves the collection of a blood sample from a patient's arm, rather than the collection of their bone marrow. This blood sample is also processed in a laboratory on the same day as the procedure. From this sample, the platelets in the plasma of the blood are concentrated and isolated from the other layers that form following centrifugation. The resulting serum contains platelets concentrated to around 7x their normal concentration in blood (click here to find out how Ospina Medical produces an even higher concentration of platelets). This serum is then injected into target tissues to similarly provide long-term healing to an area. Results typically start being seen about 4 weeks following a procedure and continue over subsequent months, or in some cases, a couple years.
These therapies operate on a longer timeline than most medical procedures; however, for many, the prospects of achieving pain relief and a return of function to an area without invasive surgery were previously very slim. Thus, these emergent therapies are largely considered to be worth the wait. 
Literature Reviews of PRP and Stem Cell Therapies for Chronic Discogenic Low Back Pain 
It has been supported by various studies that both PRP and SC therapies can help treat discogenic low back pain. This type of chronic back pain is characterized by the presence of degeneration in discs of the vertebral column. The diagnosis is confirmed using medical imaging technology (most effectively, with an MRI). Below are summaries of literature reviews on how each treatment seeks to treat this diagnosis.
Literature Review #1: PRP Injections for Chronic Discogenic Low Back Pain
A literature review was published to the Journal of Spine Surgery on PRP for Chronic Low Back Pain in 2018. This review encapsulated information and findings from 48 sources, with an emphasis to clinical trial evidence. Some of the major findings included…   
There are eight types of growth factors that have been identified whose migration to injury sites are initiated following a restart of the body's healing process.    
It was also identified that injected platelets trigger the release of cytokines, chemokines, and chemokine receptors. These collectively control immune responses and inflammation, which ultimately promotes the healing of tissues.   
In the context of disc degeneration, the platelets help to slow (and potentially reverse) some of the damage done to disc tissues by tightening the junctions between disrupted cells.   
PRP injections are particularly helpful for disc degeneration because the healing process described above naturally occurs in vascularized tissues, such as the skin. These tissues receive a regular supply of platelets and other agents from the blood to encourage rapid healing; however, the discs are avascular in nature and therefore do not receive this regular supply of healing agents. PRP comes in handy by directly delivering what is necessary for healing to the areas in need.
Literature Review #2: Stem Cells for Chronic Discogenic Low Back Pain
Another literature review published to the Journal of Spine Surgery focused on Stem Cells for Chronic Low Back Pain. This review encapsulated the findings of 286 papers representing the latest advances (as of 2019) in regenerative medicine with stem cells for disc degeneration. The review included results from animal model studies, human clinical trials, and other assorted in vitro and in vivo research papers. Some of the major findings included…   
Transplanted stem cells have the potential in both in vivo and in vitro environments to slow and even reverse the degeneration of intervertebral discs.    
The transplantation of stem cells results in the production of aggrecan, which is necessary for rebuilding of cartilaginous tissue and strengthening of extracellular matrices. This helps to increase intervertebral disc height, which is particularly helpful in treating degenerative disc disease (DDD).   
Mesenchymal stem cells (MSCs) are most frequently derived from bone marrow and adipose tissue. At Ospina Medical, our preferred method of stem cell collection is a bone marrow aspiration! Book your consultation today with Dr. Matthew Kohler or Dr. Raj Maniam to learn more.
Author: Camden Rowe