Is Working From Home Worsening My Back Pain?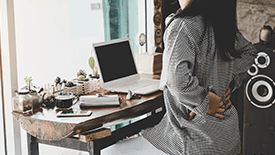 The Reality of Remote Work
Working from home undoubtedly offers a number of benefits. The most obvious include the absence of a commute, the comfort of your own home, and more time with family. This age of remote work, however, is still relatively new to society and therefore poses new challenges alongside these benefits. More blatant examples include the need to convert your lounge, dining room, or kitchen table into a substitute workspace; a consequence less often considered is the common occurrence of back pain. Whether you're working at the office or working at home, an activity as basic as not being careful about how you sit can make you more susceptible to back pain.
Be Like Goldilocks and Make Your Setup "Just Right"
Though it can be nice to not go into the office, the chairs often situated at your kitchen counter or dining table are likely incompatible with long-term work, and therefore your body and overall health. Consider situating yourself in a chair that is ergonomically designed with lumbar support for the back. Personalized support for your spine can most easily be achieved by selecting a design with adjustable lumbar depth and height. You should even consider taking the extra step of purchasing a footrest. Believe us, your health is worth these investments!
Your posture can be equally as important as the chair in which you are sitting. Avoid prolonged sitting and slouching forward, as doing one or both of these may speed up the development of back pain. A good habit to develop is ensuring you are sitting erect and all the way back in your chair. This will help you to take full advantage of the lumbar support offered. Your knees should assume a 90-degree bend, and your feet should be situated flat on the floor or a footrest. Sitting up straight will keep your joints and bones aligned, support your spine, muscles, and ligaments, and prevent muscle fatigue.
The Data Doesn't Lie!
Research suggests that prolonged sitting can be both painful and damaging to the back. A study from 2005 found that lumbar spine stiffness may increase after only 1 hour of sitting. In the second hour of sitting, one subset of the study's participants compensated for their increased stiffness with decreased lumbar flexion. Such adjustments to the passive flexion and stiffness of the lumbar spine increase one's risk of lower back injury and worsening of pain in this region.
Additional At-Home Interventions
There are also some at-home solutions unrelated to sitting that can help to minimize back pain. In particular, exercise and stretching at regular intervals can help strengthen your core and protect your spine throughout the day by putting less strain on it. Back, core, and glute exercises, specifically, may help strengthen your overall posture and comfort level. Depending on the person, remembering to do this whilst working at home may actually be harder than when you are working in an office environment with colleagues. If this is the case for you, try setting automatic reminders on your phone to get your body moving. For people with already pre-existing back conditions, regular exercise and stretching may prove especially important. Providing blood flow to back, core, and glute tissues through frequent exercise may help to minimize generalized back pain. 
In conclusion, a few small changes to the way you approach may offer considerable improvements to your back pain working from home over time. Take the first steps on this journey by finding a lumbar-supportive and comfortable chair, executing proper posture, and regularly taking breaks from sitting to stretch, exercise, and get your body moving.
Written By: Matthew Chaudhry
Edited By: Camden Rowe