How Does Frozen Shoulder Feel?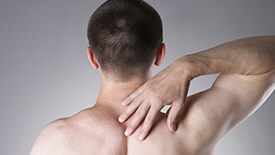 Frozen shoulder (adhesive capsulitis) is a common but uncomfortable condition that results in pain and stiffness in the shoulder joint. It may result from trauma and/or inactivity to the shoulder, although the exact cause is unknown.
While traditional treatments for frozen shoulder include rest, ice, and over-the-counter medications, Ospina Medical can provide cutting-edge Regenexx in New York City to help you find relief. Below, Dr. Matthew Kohler reviews the symptoms of adhesive capsulitis and how our options for pain relief work.
Who is at risk of frozen shoulder?
The shoulder joint and capsule are made of many tendons, ligaments, and bands of tissue that allow for a wide range of motion. When these areas become inflamed or damaged, it can lead to long-term discomfort and limited mobility. Frozen shoulder occurs in people over age 40, and it is more likely to happen after a shoulder injury or if you have been immobilized for an extended period. People with chronic health conditions like diabetes and thyroid disease are also at a higher risk of developing adhesive capsulitis.
What are the symptoms of frozen shoulder?
Adhesive capsulitis may develop slowly over time and worsen as the condition progresses. Symptoms of frozen shoulder include:
Stiffness in the shoulder joint
Limited range of motion in the shoulder
A dull ache or throbbing sensation in the shoulder
Pain when reaching for objects or lifting your arm
Arm weakness
A frozen shoulder makes it challenging to perform everyday tasks and exercises. Those who participate in sports or similar activities find their performance suffers as a result. Ospina Medical understands how frustrating this can be, which is why we offer the latest in regenerative medicine to help you heal.
How is frozen shoulder diagnosed?
A consultation at Ospina Medical is necessary to diagnose adhesive capsulitis and provide pain relief. After reviewing your history and symptoms, Dr. Kohler will perform an examination of your shoulder. This may involve moving your arm in different positions to see where you feel pain or stiffness. We may also order imaging tests to rule out other conditions. Please describe your symptoms in as much detail as possible to help us make an accurate diagnosis.
How is frozen shoulder treated?
Conventional treatments for frozen shoulder include resting and icing the affected area or taking medications to relieve swelling and inflammation. However, these methods don't always provide long-term relief. That's where Ospina Medical comes in.
Our team may recommend cortisone injections to reduce inflammation and help the shoulder joint heal. Drainage of the joint is also possible if fluid buildup causes pain. In some cases, capsular distention can break apart adhesions and improve movement.
We also find that advanced procedures like Regenexx in New York City can be extremely effective in treating frozen shoulder. These procedures use your body's natural healing process to repair damaged tissue and improve joint function. Ospina Medical uses platelet-rich plasma, platelet-lysate, and bone marrow concentrate to heal damaged tissues. Ask us about this cutting-edge procedure during your initial appointment.
Discover Regenexx for frozen shoulder
A frozen shoulder feels like a roadblock, but the professionals at Ospina Medical know how to provide pain relief. Learn more about our unique approach to adhesive capsulitis during an assessment with Dr. Matthew Kohler. Our team can review trusted treatment options like Regenexx in New York City and help you get your life and range of motion back.