Dead-Butt Syndrome: A Pain in the…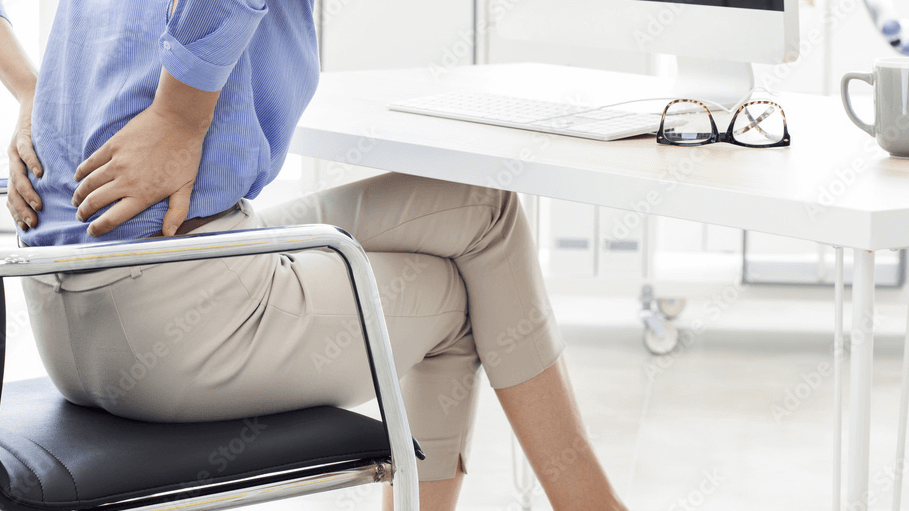 What is "Dead Butt Syndrome (DBS)?" 
Gluteal amnesia, more commonly known as "dead butt syndrome" occurs when your body improperly or ineffectively activates the gluteal muscles. This is generally caused by prolonged sitting, as well as a sedentary lifestyle or overall under-activation of the gluteal muscles. The average adult is sedentary for 64% of the time they are awake. This is due to the overwhelming majority of adults working a desk job that requires almost no physical activity. This ultimately leads to symptoms of numbness, tingling, and even pain in the buttock region.
What Causes DBS? 
Generally, "dead butt syndrome" is caused by a lack of activation of the gluteal muscles, with the Gluteus Medius in particular. Excessive sitting lengthens the gluteal muscles and tightness in the hip flexor, which may lead to overall weakness of the tissues. Additionally, overworking the quadriceps muscles, a previous injury, poor core strength, and improper posture or body mechanics can lead to or exacerbate symptoms of DBS.
What are Signs and Symptoms of DBS?   
Some symptoms of "dead butt syndrome" include numbness, tingling, muscle tightness, muscle weakness, and even pain in your buttocks region.   
You can test for weak glute muscles by doing overhead squats at home. If your knees are not aligned with your toes and extend over them, your glute activation ability may be weak.  
If you have what is called an "anterior pelvic tilt", this too may be a sign of gluteal amnesia. Your glutes have an important role in your posture because they aid in controlling the lower half of your body. An anterior pelvic tilt will give the appearance of a pronounced curve in your lower back that causes your belly to protrude forward. Because of this forward tilt, your glutes are placed into a relaxed position. This promotion of inactivation may lead to muscle weakness. Reactivating your glutes will help return your pelvis to a normal position that allows your spine to straighten and rest in a more relaxed position. This should decrease stress to your lower back, and reduce associated pain.
How is DBS Treated?
Fortunately, gluteal amnesia is avoidable and reversible. If you take regular breaks between prolonged periods of sitting and activate your glutes, this can help to prevent weakening of your glutes, and therefore "dead butt syndrome." If you do suffer from symptoms of "dead butt syndrome", you can consider RICE (resting, icing, compression and elevation) therapy protocols as a first course of action. If symptoms persist, you may wish to consider physical therapy or deep tissue massages to improve flexibility and muscle strengthening. 
Platelet Rich Plasma (PRP) for DBS?
If your pain still persists, you may be suffering from inflammation at the gluteal tendon insertions. In this event, you could likely benefit from platelet rich plasma (PRP) therapy to heal the damaged tissue. PRP therapy involves reinjection of your own platelets (biological healing factors derived from your blood) into the target areas of inflammation or damage. 
If you are interested in platelet rich plasma (PRP) for DBS, make sure to find qualified physicians who specialize in these treatments to ensure safe and effective outcomes. Ospina Medical is one of Manhattan's leading regenerative medicine practices that specialize in both PRP and stem cell therapy for treatment of musculoskeletal conditions. Book your appointment today to discuss these options in more depth!
Edited By: Camden Rowe