Medical Marijuana for Chronic Pain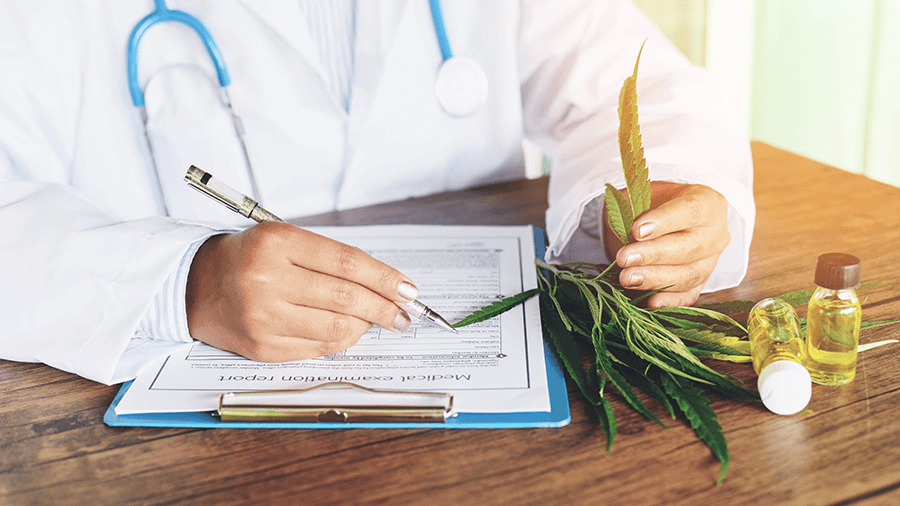 At Ospina Medical, our goal is to provide treatment options that put your health and wellness above all else. For patients with chronic pain, one therapeutic option that we have found to be a particularly beneficial and safe alternative to opioid medications is Medical Marijuana. In New York State, Medical Marijuana is approved for the treatment of refractory chronic pain that lasts longer than 3 months and degrades your health and functional capability. If you are a New York State Resident with low back pain, neck pain, arthritis, fibromyalgia, nerve pain, or any other painful condition, medical marijuana may be a safe and effective option for you. Our providers at Ospina Medical can evaluate whether you are an appropriate candidate and certify you for this treatment. Due to the current COVID-19 pandemic and to ensure the safety of our patients, we are now offering virtual telemedicine consultations for Medical Marijuana certifications. 
Before any appropriate candidate is certified it is important to understand how the Medical Marijuana program works in New York and to understand the various formulations available to them. New York Medical Marijuana dispensaries offer capsules, sublingual drops ("under the tongue" drops) and vapor pens. Each of these formulations has different advantages based on an individual's needs. For example, the capsules generally have a longer duration of action while the inhaled vapor takes effect more quickly. The sublingual drops have an intermediate onset and duration of action that many patients prefer. It also avoids the potential for lung irritation that may occur with the inhaled vapor. Considering the presence of COVID-19 in New York at this time, we recommend capsules or sublingual drops as the safest routes for marijuana administration. This recommendation is based on the severe pneumonias reported with COVID-19, not a result of the recent vaping safety issues reflected in the media regarding the presence of Vitamin E Acetate. Medical Marijuana vapor pens offered at state authorized dispensaries do not contain vitamin E acetate, which is a toxin believed to be related to many of the vape-related eosinophilic pneumonias seen in today's population. 
It is also important to understand the cannabinoid concentrations in the Medical Marijuana products offered in New York. The cannabis plant contains many bioactive chemicals called cannabinoids, with the most well-studied for pain and inflammation being cannabidiol (CBD) and tetrahydrocannabinol (THC). CBD has been found to improve pain symptoms and inflammation, manage epileptic seizures, and reduce anxiety. THC is responsible for the psychoactive ("high") effects of cannabis, but has also been shown to decrease pain and inflammation, alleviate muscle spasm, increase appetite and reduce nausea. New York dispensaries offer formulations that include: High CBD with low THC, equal amounts of CBD and THC and High THC with Low CBD. A formula with high levels of CBD and low THC can provide pain relief while minimizing the cognitive effects of THC. 
There are many THC-free CBD products available over-the-counter at retail stores without a prescription, including a large variety of oils, edibles, creams, bath soaks and infused drinks. However, it is important to note that these products are not as closely regulated by the FDA or other health organizations, so their composition and quality can vary widely (though there are some that we have found to meet high production standards). It has also been shown that CBD and THC work synergistically to achieve optimal improvement of symptoms. 
Medical marijuana is one of the many treatments we use to help patients with chronic pain. At Ospina Medical, we will work to find the safest and most effective long-term pain relief plan for you. Book a telemedicine appointment today to see how we can get you feeling your best! 
Sources: