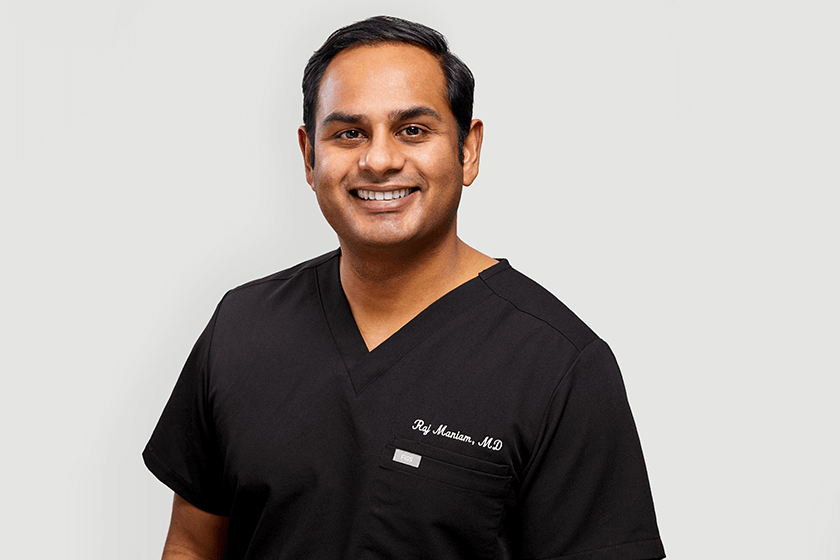 Dr. Rajivan Maniam is one of Manhattan's leading Regenerative Medicine and Interventional Spine and Joint specialists. He completed his Anesthesiology residency at Columbia University Medical Center and his Interventional Pain Medicine fellowship at Harvard Medical School's Brigham and Women's Hospital. He is currently double board certified in Anesthesiology and Pain Medicine through the American Board of Anesthesiology. Additionally, he has completed advanced certifications in regenerative medicine through the Interventional Orthopedic Foundation, as well as extensive training in functional medicine through the Institute for Functional Medicine.
Prior to co-founding Ospina Medical, Dr. Maniam received his undergraduate degree in biological sciences from Cornell University with a concentration in neurobiology and behavior. He then attended Rutgers Robert Wood Johnson Medical School where he was inducted into the Gold Humanism Honor Society for his compassionate patient care. After fellowship, Dr. Maniam worked in both the hospital setting and private practice, before joining Christiana Care as the Medical Director of the Comprehensive Pain Program. There he successfully founded and launched the first outpatient Comprehensive Pain Center within the Christiana Care Health System. During this time, he developed a novel multidisciplinary platform for treating pain that included integration with behavioral health, a chronic pain-focused rehabilitation program, and integrative therapies all focused on minimizing opioid prescribing.

Throughout his training, Dr. Maniam has had a strong interest in functional medicine and its role in treating patients with pain. Functional medicine approaches pathology through a systems-biology lens that focuses on a holistic, individualized approach to patient care. By melding functional medicine with his allopathic training, Dr. Maniam has been able to develop novel treatment plans that are both safe and effective. He has received extensive training through the Institute for Functional Medicine (IFM), the gold standard in evidence-based functional medicine training and will soon be one of the first IFM-certified Interventional Spine and Joint physicians in Manhattan.

Nationally, Dr. Maniam continues to remain active in several organizations, including the Spine Intervention Society, the American Society of Interventional Pain Physicians, the North American Neuromodulation Society, the Interventional Orthopedic Foundation, and the Institute for Functional Medicine. Dr. Maniam has delivered both local and national presentations on various topics within the fields of regenerative medicine and pain management and continues to be heavily involved in new clinical research trials and resident and fellow teaching.

Dr. Maniam strives to provide individualized, evidence-based treatment strategies to better serve the needs of his patients. By utilizing a combination of regenerative medicine, interventional spine and joint procedures, and functional medicine, Dr. Maniam strives to not just alleviate pain but improve his patients' overall health and function.

In his spare time, Dr. Maniam enjoys traveling, playing tennis, and spending time with his family and friends.
Reviews
"Dr Maniam and his staff are excellent. Renya at the front desk is always friendly and makes me feel comfortable. There's a real sense that they care about their patients. I've had numerous spinal epidural's and radio frequency ablations, they've been painless and have gotten excellent results. This is the best pain management group that I've been to and I've been to more than a few... I highly recommend Ospina!"
M.G.
Google
"Dr. Maniam is great and you took care of my knee. My knee feeks great and i can walk again. The visit was beautiful and they treat me with respect."
K.D.
Google
"The whole practice is excellent! Everyone makes you feel welcome! Jackie the Administrator, Ramina the assistant, and Dr. Maniam himself I know I'm missing others… sorry). Dr. Maniam has great listening skills and has done an outstanding job at answering all of my questions thoroughly and easing my anxiety. I fully trust him and would never go to another pain management doctor other than him. So far I've had two epidurals in the C6-C7 area and a few trigger point injections in the surrounding muscles and all of them have been administered successfully. If you're looking for someone that is really good at their job and genuinely cares… Dr. Maniam is your guy!"
O.R.
Google
"I traveled thousands of miles from my home in Dubai to do my spine injection procedures with Dr. Maniam in NewYork. He is a very well experienced doctor and they are the best in NY. Thank you all."
A.A.
Google
"Dr. Maniam was professional and kind and gentle in doing a spinal procedure. So grateful I found this team of pain management specialists."
L.P.
Google
Related Posts